Kennewick, Washington Home Health Provider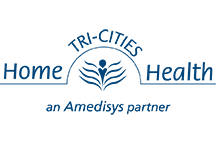 Office Hours
---
Monday-Friday
8:00 am

-

5:00 pm
Urgent Needs: 24/7 On-call
Counties Served
---
Benton
Franklin
Walla Walla
Skip link
About Amedisys Home Health Services in Kennewick
Tri-Cities Home Health in Kennewick is located at 8819 W Victoria Avenue, between North Steptoe Road and North Pittsburgh Street, a few minutes from the Meadow Springs Country Club. We provide care in patients' homes in cities like Richland, Pasco, West Richland, Prosser and other communities within about a 50-mile radius of our care center. Call us at (509) 783-1851 to find out if we provide home health care in your area.
The Need for Home Health Care in Kennewick
Like many others in the country, adults 65 and older in Kennewick and surrounding areas are struggling with their health:
76% of Benton County residents over 65 are living with at least one chronic disease, such as cancer, COPD, diabetes or heart disease.
The chronic conditions that most commonly affect residents in this area include cancer and arthritis.
29% of Benton County residents struggle with at least one activity of daily living, such as dressing, bathing or running errands.
Home health care can help eligible people with serious illnesses, as well as those recovering from surgery or injury. A trained team of nurses, therapists, home health aides and social workers will coordinate visits to your home and provides convenient, affordable healthcare. Loved ones and caregivers also get education and support. Home health care is covered by Medicare, Medicaid and most private insurance plans for eligible patients.
Tri-Cities Home Health Can Help
Since 1966, Tri-Cities Home Health in Kennewick has provided some of the city's 83,000 area residents with high-quality home health services. Working with your doctor, we'll create a plan of care tailored to you. Your home health services may include:
Skilled nursing – to monitor your health, educate you and your caregiver, and manage your symptoms and pain
Physical therapy – to improve your strength, balance and ability to move around
Speech therapy – to improve your communication, swallowing and thinking skills
Occupational therapy – to teach you how to use special equipment, make your home safer and do daily activities
Home health aides – to help you with daily tasks like bathing, grooming and dressing
Medical social work – to provide counseling, referrals to community resources and long-term care planning
Specialized programs – to treat heart failure and COPD, and to help prevent falls
Live Better With Home Health Care
Are there things you used to be able to do, but can't do anymore? Tri-Cities Home Health in Kennewick has a mission to help you get back to the things you love. Whether that's gardening, visiting friends and loved ones, or getting out into the community, we want to help you feel better so you can live well.
The Tri-Cities area, which is made up of Kennewick, Pasco and Richland, offers a lot of ways to get out and enjoy life. Kennewick is part of the second largest metropolitan area in eastern Washington. The nearby Columbia River, Snake River and Lewis and Clark Trail make southeastern Washington a hub for outdoor recreation. Clover Island is a popular destination for boating and dining. Many locals also enjoy walking around Kennewick's historic downtown, browsing boutiques, restaurants and art galleries. The Toyota Center is home to a variety of events, including hockey games with home teams the Tri-City Americans and Tri-City Outlaws. We have so many options in the Tri-Cities area, and we want to help you feel better so you can take advantage of them.
Many people want to stay out of the hospital and in the comfort of home. Home health care can help. Call Tri-Cities Home Health in Kennewick at (509) 783-1851. We're happy to answer any questions you have and talk through your needs and insurance coverage.
Skip link